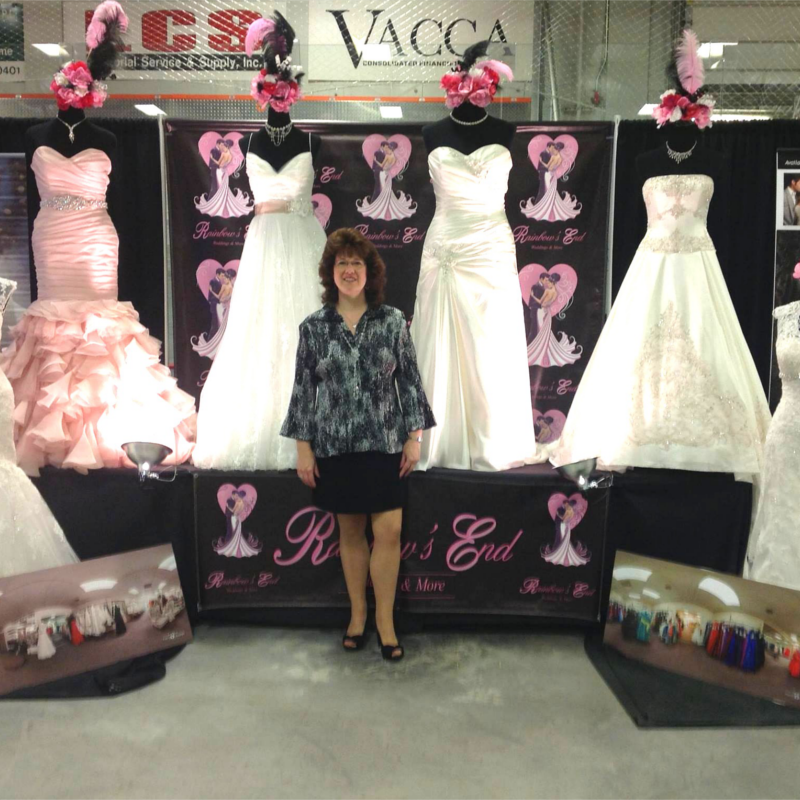 For over 20 years

, we've been making dreams come true!

Rainbow's End Weddings and More has been happily serving brides in the Oneonta area and beyond since 1997. We specialize in bridal gowns, bridesmaid gowns, tuxedo rentals, prom gowns, special occasion attire and much, much more! In addition to our brick and mortar location at 453 Chestnut St. (3200 Plaza) we also travel to many bridal expos throughout the year. Locally acclaimed, Rainbow's End has won the Oneonta Daily Star's "Best of the Best" Reader's Choice Award 11 times – locals trust us, and you can too!
---
What our brides are saying:
Thank you to everyone at Rainbow's End who made shopping for my bridal gown an enjoyable and stress free experience! When I tell everyone how easy it was to find my gown, they can't believe it and it was all because of your staff. We were always treated like we were your only customer whenever we came in. Your seamstress is the BEST! This is such an important part of the gown shopping experience and she made my gown look like it was made just for me. Thank you, thank you, thank you!
To all of you future brides out there - Rainbow's End Weddings is THE one and only place to go. I tried the big mass production stores and when I didn't feel any emotion after trying on 10 dresses - I knew something was wrong. Then my mom and I went to Rainbow's End...After telling her what I was looking for, the lady helping us went back to grab a dress she knew had just come in. It was THE dress. It fit perfect, made my mom cry - everything was just RIGHT about it...Thanks so much to Rainbow's End for making my dream wedding come true!!!
On my very first trip to Rainbow's End, I found the most beautiful wedding dress. Susan was so understanding and made me feel like family. I think she knew right away what I was looking for. I felt confident with the level of care that was given at every appointment and nothing was left to chance! It was great to have the personal attention that isn't provided at larger stores. The variety, alterations, and professional service is unmatched...I would recommend Rainbow's End to any bride and her bridal party because I couldn't imagine going anywhere else!
Rainbow's End Weddings and More provided Excellent service!! Very professional and made the entire experience of buying a wedding dress. There is nothing I would change. They surpassed my expectations and thoughts after my experience with a "large" bridal shop.
I found the dress of my dreams at rainbows end. The ladies there are so helpful and nice. Never settle for a dress! Always try on different styles than you imagined yourself in! When you find the right one you really will just know.
This was the first place I went to try on dresses, and I did not expect to find anything, as I had heard it can take a lot of searching. I was also working with a very (VERY) small budget. But I found my dress here! I absolutely fell in love with a dress that was under my price range! The lady helping me was incredibly nice, and helped me find dresses to try that would flatter my size and shape, and still match my budget. They also took care of the alterations, for a very reasonable price. I love Rainbow's End, and I would recommend it to all brides in the area!
I am so thankful I ended up going to Rainbow's End for my wedding gown. From my first appointment to my last, they have exceeded my expectations. Linda listened to what I liked and did not like about the various gowns I wanted to try on and had me try on one at the end that I never would have selected initially, but that was the one I decided upon. Their service was top-notch and timely, as well as reasonably priced. They made the process a breeze and stress-free. I would highly recommend this small, locally-owned business.